HOUNDS PARTICIPATE IN SAFETY DAY AT
DOMINION CHEVROLET
October 26, 2013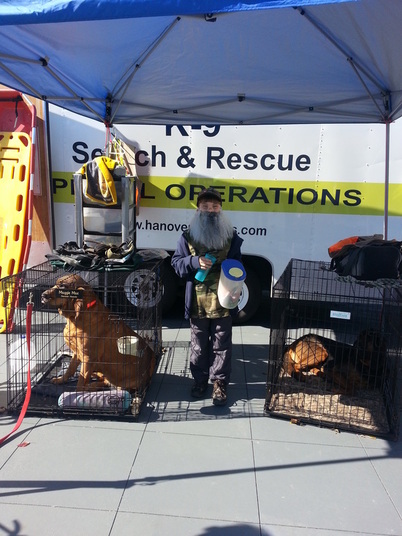 Saturday, October 26, 2013
, your Hanover Hounds K-9 Search and Rescue Team, participated in
Dominion Chevrolet's Annual Kids Safety Day
. For the second year in a row, the group was present to show the kids of the community, what a canine search and rescue is all about. The Hounds personnel informed the children how to react if they are ever lost in an unfamiliar place, and what the bloodhounds do to find them!
The Hanover Hounds, during their stay at Dominion, held a training exercise where the community watched them in action. Please CLICK HERE
to be taken to our Training section of this website for a slide show presentation of that training exercise.
For information about how the Hanover Hounds and their canines can assist is events within your community, please use the CONTACT US form on this site, or e-mail Teresa Parrish, our PR Director at t.parrish@hanoverhounds.com.
Please enjoy the slide show of the Trick or Treaters.
---
---
HANOVER HOUNDS PRESIDENT AND CAPTAIN, ED MARTIN
HONORED AT FLYING SQUIRRELS GAME
AUGUST 22, 2013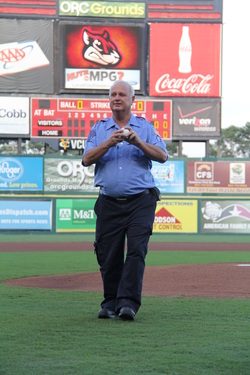 Your Hanover Hounds K-9 Search and Rescue President and Captain, Mr. Ed Martin, an East Hanover Volunteer Rescue Squad Life Member (
www.ehvrs.org
), was selected out of many responders to be honored by the Flying Squirrels, and to throw out that first ball of the game. We at your Hanover Hounds, congratulate Ed for making a STRIKE with his throw to the plate!
Ed Martin has been a steadfast volunteer for East Hanover for 40 years. His dedication to the world of Emergency Medicine, and his love for his community is second to none. Mr. Martin has held just about all of the Executive Board positions during his career at East Hanover, and currently runs duty on two of the squad's crews, the Thursday Day Crew, and on Crew #4, one of East Hanover's rotating night shifts. Ed is quite often seen working with a new member, a young junior, or training a member of any crew.
In the latter part of 2011, Ed started
The Hanover Hounds K-9 Search and Rescue Team
, a non-profit agency that when called out to duty, will find those lost and missing people from our community. The Team operates 24 hour, 7 days a week, a Canine Search and Rescue Team whose primary goal is to seek out and find those lost and missing in our area. Ed, and his canine, Maggie Mae are often seen training in the area, making him ready at a moment's notice.
Ed, we congratulate you for a job well done!
---
---
HANOVER HOUNDS ACTIVATED JULY 23, 2013
PERFORMED SUCCESSFUL SEARCH!


Hanover Hounds was activated by the Hanover County Sheriffs Department Tuesday night July 23rd around 9:30PM to help locate a missing woman from a group home. INBTI Assistant Instructor/Hanover Hounds K-9 handler Brian Parrish with his K-9 Hobbes and Hanover Hounds K-9 Handler Ed Martin with his K-9 Maggie Mae provided assistance to law enforcement. Both K-9 Hobbes and the Sheriffs Officer's K-9 confirmed the subject's direction of travel. The subject had traveled in both directions on the main road in front of the her home. K-9 Hobbes picked up on the freshest scent and indicated on a brick wall that separated two residence about 1/4 mile from the subjects home.. The subject was found shortly after inside a car approximately 20 feet from the brick wall by a Law Enforcement officer. All of these bloodhounds have been trained using Kevin Kocher's method of intensity training which has helped create the solid foundation that has made them become successful trailing dogs.



---
HANOVER COUNTY HONORS OUR CANINE HEROES
MARCH 23, 2013 AT COURT HOUSE PARK, HANOVER, VA.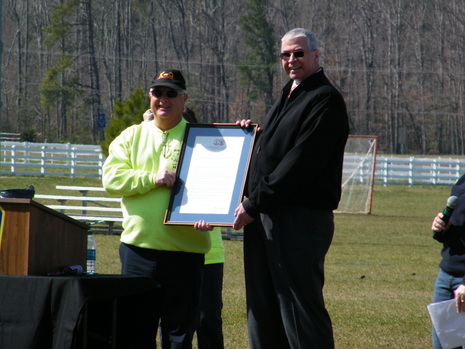 Capt. Ed Martin receives Proclamation from Del. John Cox.
Hanover K-9 Hero's Day, the first commemoration of Virginia K-9 Veterans Day, was held on Saturday, March 23 at Hanover Court House Park, Hanover, VA.
Presented jointly by the Hanover Hounds K-9 Search and Rescue Team and the Hanover County Parks and Recreation Department, this event celebrated the Commonwealth's FIRST ANNUAL official recognition of March 13 at K-9 Veterans Day in Virginia.
The Canine Celebration included demonstrations by Search and Rescue, Therapy, Agility, and Police and Military Working Dogs.
In addition, their were many vendors of pet-related products and veterinarian service providers that were on hand to celebrate the event. The audience was thrilled at the demonstrations, and were quite tearful during the opening ceremonies. Discussions and explanations of the history of the MILITARY WORKING DOG were detailed by the speakers, which included the transfer of the new Military Working Dog flag from the Hanover Hounds K-9 Search and Rescue Team to the Virginia War Memorial. The actual Commonwealth of Virginia Proclamation making March 13th of this and every year K-9 Veteran's Day, was given to Captain and President Ed Martin for the Hanover Hounds.
**** When you CLICK HERE, you will be taken to the K-9 Veterans Day page on this website to enjoy BOTH slide shows of the March 13, 2013 event that took place at the Virginia War Memorial AND the Hanover Hero's Day held on March 23, 2014 at Court House Park. You get a Two-for-One special (sort of).
****
In addition, our President and Captain, Mr. Ed Martin, along with our First Lieutenant and Training Director, Mr. Brian Parrish with his K-9 Hobbes, were interviewed by WTVR in Richmond. That interview appeared on March 20, 2013, on the VIRGINIA THIS MORNING segment. The segment was subtitled "One of the most important parts of any search and rescue is the K-9 Team."

Please CLICK HERE to watch that interview. Congratulations to all Hanover Hounds, from your Webmaster!
---
---
HOUNDS TRAINING DIRECTOR, BRIAN PARRISH, EARNS
ASSISTANT INSTRUCTOR FOR THE
INTERNATIONAL BLOODHOUND TRAINING INSTITUTE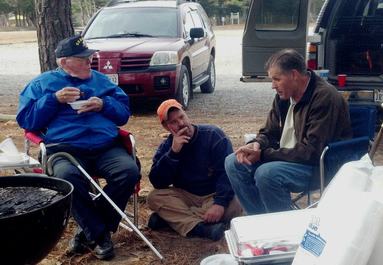 Brian, center, with Kevin Kocher, INBTI Dir. to right.
The Hanover Hounds would like to announce that our Training Officer, Brian Parrish, has been added to the training staff of the International Bloodhound Training Institute, as an Assistant Instructor. Having taken the appropriate INBTI training courses
this fall, and attending the outdoor training class in November, the INBTI asked Brian to join its staff. He is the only Assistant Instructor in the state of Virginia.
Brian will be traveling to work with Mr. Kevin Kocher
in the coming months to further advance his knowledge in working with K-9s.
Hanover Hounds is fortunate to have established such great working relations with Mr. Kocher from the INBTI, and having Brian on his staff will only help our Team become one of the strongest K-9 Search and Rescue Teams in the Commonwealth and Hanover County.
Please check out the INBTI website at www.bloodhoundtraining.com.
---
---
HANOVER HOUNDS HOLDS SECOND ANNUAL
SANTA PAWS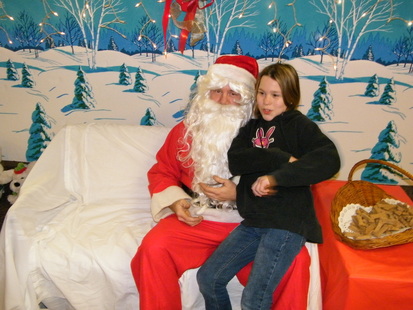 On Saturday, December 15, 2012, at the Mechanicsville Moose Lodge, your Hanover Hounds K-9 Search and Rescue Team held its Second Annual SANTA PAWS Fundraiser. In association with the Women of the Moose, pets of all shapes, sizes, and age, had their picture taken with the Jolly Ole" man himself, Santa Claus! In addition, several vendors were present at the function to assist in the fundraising efforts of the Hounds. These vendors were Dog Scout Troop Post #194, Classy Canine, and A&J Training Solutions.

The Hanover Hounds wish to thank the many people who stopped by, and want to wish everyone in the community a very Merry Christmas, and a great 2013!

Please enjoy the slideshow below. Perhaps you might just know some of these pets.......

---
---
HOUNDS PARTICIPATE IN "TEDDY BEAR RUN"
SATURDAY, NOV. 3, 2012

The morning was windy and cold, but this event was filled with compassionate and caring people.Several of them came by to ask about the Hounds that were on display, as they were interested in joining our team. Your Hounds that were present were Rufus, Ellie, and Maggie. There were over 100 motorcycles that had one mission that day -
to put a smile on a child's face!
This event was an amazing one to be a part of, just to see all of the different people who cared enough to spend their day, raising money to put those smiles on those children!
The Hanover Hounds K-9 Search and Rescue Team ran some trails after the motorcycles left to deliver the bears, as the area as full of different scents of all kinds to use in training. Smells of people, cars, gas, animals, and food just to name a few were present in the area. All of our K-9s did well in the windy conditions.
Thanks to the Blue Knights, www.blueknightsvaiii.org, for hosting the event and inviting the Team. Also a big Thanks You goes to K-95 and Cat Fish, www.k95country.com, for their help in making the event successful. Please enjoy the photos below from the event, and we'll see y'all next year!
---
CHILD SAFETY DAY AT DOMINION CHEVROLET
HUGE SUCCESS! - OCTOBER 27, 2012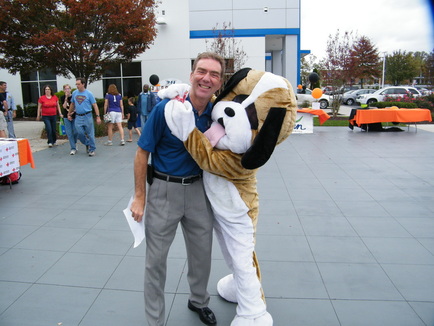 The Hanover Hounds mascot with Dominion owner, Mr. Ted Linhart.
The Dominion Auto Group held a highly successful KIDS SAFETY DAY during Saturday, October 27, 2012 at their location on West Broad Street in Short Pump, VA. One of the main activities was performed by the FBI, who fingerprinted and photographed the children in case any issues surfaced in the future for these kids. The Henrico Fire Department was present with their Fire Truck, the American Red Cross spoke about child safety and gave out pertinent information, the Richmond Police K-9 Unit handed out information and displayed K-9 training materials, and our Virginia State Police seemed to always be giving demonstrations of their vehicles.Dominion had many additional vendors present, all focused on KIDS SAFETY.

In addition, your Hanover Hounds were at Dominion, showing all of the children trick-or-treaters, how to stay safe if lost. The Hounds played the popular video called Lost!... But Found Safe and Sound! to a variety of audiences, and near the end of the event held an actual Search and Rescue to the enjoyment of the crowd.

Fun was had by all, and we congratulate Dominion for hosting such an event quite necessary in today's world.



---
---
HOUNDS ASSIST NEW KENT COUNTY GIRL SCOUTS FOR DISASTER PREPAREDNESS TRAINING - OCTOBER 20, 2012


On Saturday, October 20, 2012, your Hanover Hounds K-9 Search and Rescue Team was in New Kent County, VA to an event hosted by the Girl Scouts. The event centered around "being prepared" for all disasters and emergencies. The Hanover Hounds taught the Scouts the "Lost!...But Found Safe and Sound!" program to approximately 30 girl scouts, ranging in age from 9 to 15. They viewed the video, had a question and answer session, handler the Search and Rescue equipment, and was tested.

After the test, the scouts participated in a mock "hide and seek" search with Hobbs and Maggie Mae, the two K-9s that were present. All of the scouts who had expressed an interest in hiding, got to see first hand, how the K-9s use their noses to follow their scent with all of the other scents and distractions present. Handlers Parrish and Martin were able to use the "hide and seek" game as an opportunity to train the K-9s. This type of training is known as an Intensity Exercise, one of the building blocks of proper SAR foundation, necessary to keep them ready for a real mission.

The K-9s really enjoyed being with the scouts, and playing "hide and seek."


_
---
---
CANINE CAPERS WELCOMES THE HANOVER HOUNDS
OCTOBER 14, 2012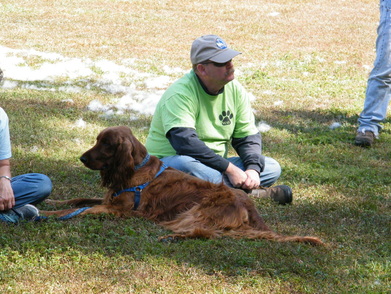 The Canine Capers, a weekend of fun and games for you and your dog, was held on October 14, 2012 at the Myer's Farm in Ashland, Virginia. The fun-filled event is sponsored by the Working Aussies of Virginia. The club is dedicated to the working abilities of Australian Shepherds through various performance events.

Your Hanover Hounds were on display, as victim Angel Von Hagel was hidden on the farm, and Handler Martin with his K-9 Maggie Mae, attempted to find her, while Training Director Parrish explained the process taking place.

Your Hounds were appreciative of being invited to be a part of the Canine Capers, and we look forward to next year's events.


---
---
OAK KNOLL MIDDLE SCHOOL WELCOMES YOUR HANOVER HOUNDS
AUGUST 22, 2012

Oak Knoll Middle School invited the Hanover Hounds to participate in their Summer Book Chat on Wednesday, August 22, 2012. The theme of the book was "disasters," and the Captain of the Hounds, Mr. Ed Martin, spoke about how the search dogs are used during any disaster that might take place in Hanover County or the surrounding Virginia Commonwealth. Captain Martin showed the children and adults the program "Lost!...But Found Safe and Sound!," and performed an actual Search and Rescue on the school's grounds for all to watch.
Also in attendance was Webmaster John Von Hagel who is in partnership with A&J Training Solutions. He spoke about Pet First Aid before the hunt began, as he was to be hunted!!. Information on animal first aid kits, and documents from FEMA concerning the proper care and protection of animals during a disaster, were distributed to all
.
Please enjoy the photos below, taken by Mr. Von Hagel during that day, and contact your Hanover Hounds to schedule such an event at your school. Please use the CONTACT US tab from this website as well.
---
---
HANOVER HOUNDS PARTICIPATE IN HANOVER'S
ANNUAL TOMATO FESTIVAL - JULY 14, 2012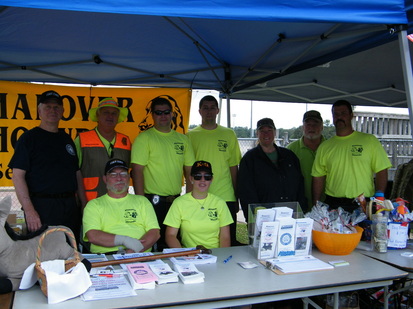 Saturday, July 14, 2012, at the Pole Green Park in Mechanicsville, VA, the Annual Tomato Festival took place. Attended by well over 30,000 participants, the Festival is the premier event for Hanover County. Your Hounds participated along with over 100 vendors! They spoke about Search and Rescue events and techniques, held a raffle for a basket containing various canine paraphernalia, and gave away classes in CPR and Pet First Aid. It was a huge success for the Hanover Hounds, and we wish to thank all of those many citizens who braved the heat and the rain that day. It is because of you, our community, that the volunteers pictured to the right, are ready at a moment's notice should a loved one becomes lost!

PICTURED TO THE LEFT - Seated from left to right are John Von Hagel, and Christine Moore, Standing across the back, we have Jim Bowen, Captain Ed Martin, Ven Barnes, Eddie Anderson, Kathy Ashworth, and Brian Parrish.

---
---
HANOVER HOUNDS DEMONSTRATES SAR TECHNIQUES AT
ASHCAKE VRS OPEN HOUSE ON JUNE 23, 2012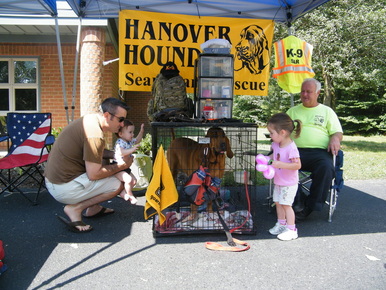 Alexander and Olivia Krouse, along with parents Michael and Tena.
Ashcake Volunteer Rescue Squad
held its
Annual Open House on Saturday 23, 2012
at its location on Ashcake Road, Mechanicsville, VA. A fun-filled day was had by all who attended, and your Hanover Hounds performed well. The SAR group demonstrated a "Search and Rescue," attempting to find one of its members who had hidden from sight on the squad's property.
Maggie Mae, along with Handler Ed Martin, and ably assisted by HHSAR members Angel Von Hagel and Ven Barnes, took no time finding your Webmaster John Von Hagel, who was
"back in the bushes" trying to hide.
Enjoy the Slide Show from this event. Drop the Hanover Hounds a message if you would like for them to perform at your functions by using the
CONTACT US
form on this website.
---
---
2012 SPECIAL OLYMPICS WERE QUITE SPECIAL TO THE HOUNDS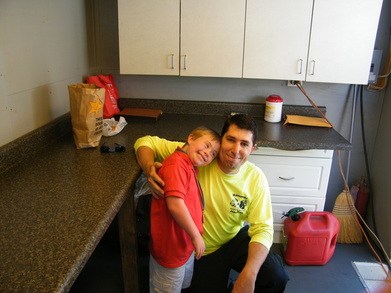 Handler Eddie Anderson hugs one of the winners of the Olympics.
It was all about the kids! It was all about the special athletes!

On the campus at the University of Richmond, the Hanover Hounds K-9 Search and Rescue Team participated in the 2012 Special Olympics, and had a grand time with this year's attendees. Saturday, June 9, 2012 was filled with fun, friends, and the joy that comes from being part of these Olympics.

The Hanover Hounds displayed their equipment, and gave classes on the Lost!...But Found, Safe and Sound! program to help the young generation understand what to do if lost! Instructors were onsite to demonstrate Pet First Aid, and a great time was had by all.

Enjoy the slide presentation below, and your Hounds look forward to seeing you back next year!


---
---
YOUR HANOVER HOUNDS ATTEND BATTLEFIELD PARK ELEMENTARY FAMILY FUN CARNIVAL - MAY 19, 2012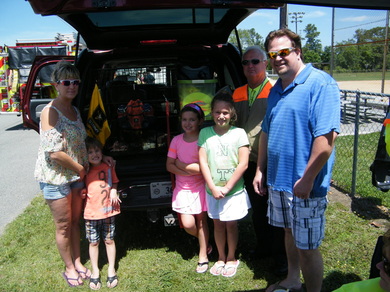 Capt. Martin and Maggie Mae, along with one of the curious families.

It was "Show-and-Tell" time at Battlefield Park Elementary School on Saturday, May 19, 2012. Your Hanover Hounds were present during the school's Family Fun Carnival, and displayed their Search and Rescue materials. In addition, President and Captain Ed Martin had his bloodhound, Maggie Mae, pleasing the crowds, the families, and especially the children. Maggie seemed to be enjoying the attention, especially when she and Ed had photo opportunities with McGruff, the Crime Fighting Dog! In attendance were volunteers Angel Von Hagel, and Webmaster John Von Hagel, who seemed to snap photos of everything.

Please enjoy those shots below, as they are in slide show format. Sit back, enjoy, and capture the moment of the Hanover Hounds K-9 Search and Rescue Team!


---
---
HANOVER PROCLAIMS MARCH 13 AS K-9 VETERANS DAY


President Ed Martin receives Proclamation from Supervisor Chairman Via.
As published from Hanover County's website, www.co.hanover.va.us, and the Hanover Access News for March 28, 2012.
Tonight the Board proclaimed March 13, now and thereafter, K-9 Veterans Day in honor of the thousands of dogs who have served with honor, dignity and valor throughout our history. The resolution recognized that to this day dogs continue to serve with honor, dignity and valor on our borders and abroad every day, on both land and sea, and Military and Police Working Dogs have helped to guard our beaches since World War II. Many Hanover County residents actively participate in and engage in K9 training and operational activities to facilitate the U.S. Military and civilian activities; and due to the current war on terror, such dogs as Customs Dogs, Search and Rescue Dogs, Border Patrol Dogs, Police Dogs, Secret Service Dogs and many more will be included with the Military Working Dogs in this recognition as they also help protect and serve our Country.
---
---
FOUNDER MARTIN WOWS ROTARY CLUB
MARCH 21, 2012 AT COLD HARBOR RESTAURANT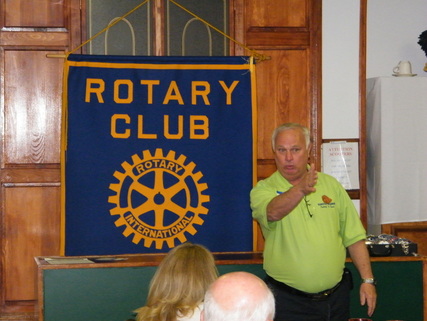 Explaining the MISSION of the Hanover Hounds K-9 Search and Rescue Team comes "second nature" to our founder, Ed Martin. Ed enjoys the opportunity to tell all Hanover citizens about the Hanover Hounds, and to inform everyone on how to stay safe and sound, until found! Ed often presents to school children through their school functions, the
importance of how to stay safe in the wilderness if you ever get lost.
Mr. Martin presented this information to the members of the Rotary Club of Mechanicsville on March 21, 2012 during their breakfast and fellowship meeting. Webmaster, John Von Hagel, assisted Ed, as we answered many questions from a very attentive crowd.
---
---