HANOVER HOUNDS HONOR ALL K9 HEROES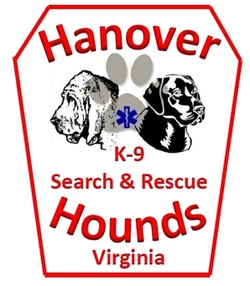 The handlers, flankers, administrative personnel, and K9s of Hanover Hounds K9 Search and Rescue, serve the citizens of our local communities in their time of need, and sometimes they happen to place themselves in harms way. We would like to say a THANK YOU to our military handlers and their K9's for the service they are providing to our troops both in the USA and all around the globe.
There are about 650 K9's and their handlers serving our country in different theaters in Afghanistan at this present time.They are being used to sniff out explosives and booby traps for US troops on patrol.
Since May 2010, 14 K9's have been killed in action, six have been wounded and three are still missing.
There are seven teams of military veteran's in Afghanistan and two veterinary hospitals to provide medical support to these K9 hero's.
It's not enough to say that a dog is Man's Best Friend when you see what these amazing animals do to protect and serve. Your Hanover Hounds will be providing information on the Hero's and their handlers who have given the ultimate sacrifice serving our country or who have demonstrated themselves as heroes in the line of fire. Again, we salute our K9's and their Handlers who protect our troops without a second thought.
Click on the drop down boxes from this tab to read about our
military
and local
canine Search And Rescue Heroes
and to be connected with several important search and rescue websites.
Your Hanover Hounds salute you!
---
---