THANK YOU FOR YOUR CONTRIBUTIONS AND CONDOLENCES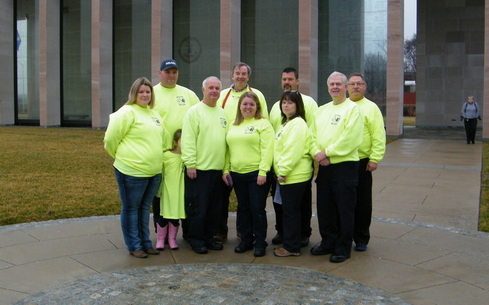 The family of the Hanover Hounds K-9 Search and Rescue Team, wish to thank all of you for your fine donations in memory of our beloved founder and President, Mr. Ed Martin. Your donations will help us move the team forward getting the important equipment and supplies, a request that Ed wanted us to do. Ed was all about the primary directive of our SAR Team, to track until found, and to save a life in the process. In addition, we want to thank you for all of your kind words and thoughts about our founder, and rest assured, Ed's memory will be carried on in all that we do.

---
---
IN MEMORY OF OUR PRESIDENT AND FOUNDER
EDWARD M. MARTIN III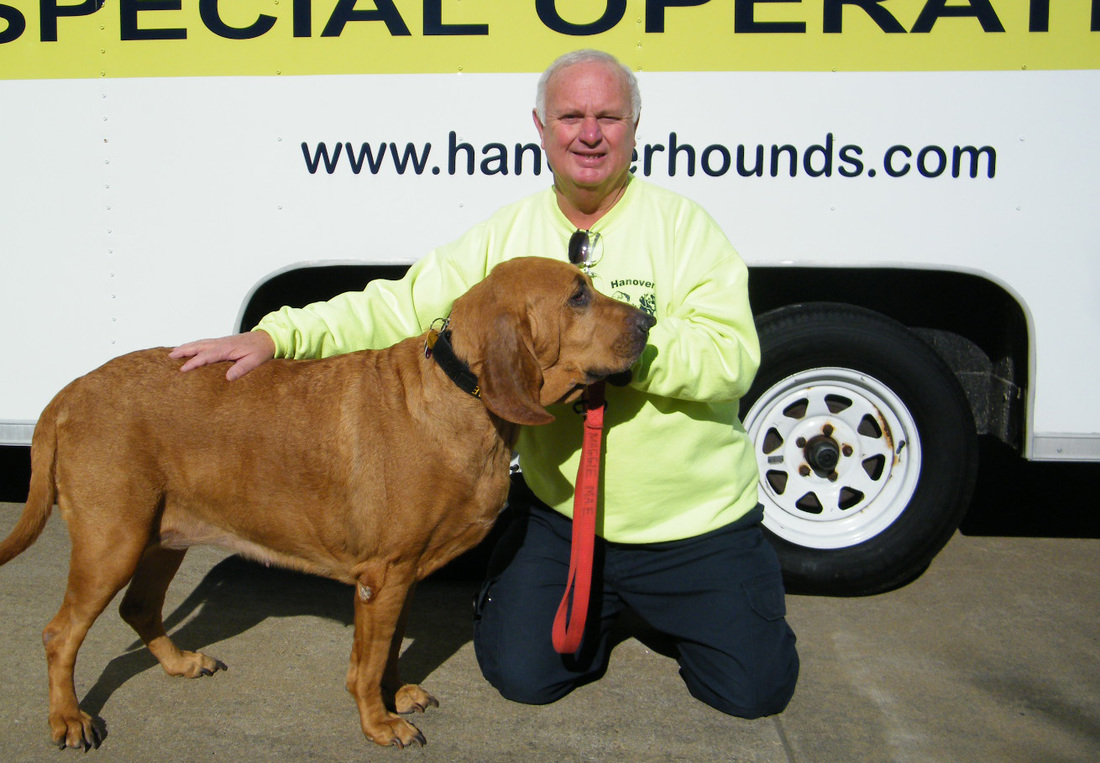 On July 13, 2016, Ed Martin, President and Founder of Hanover Hounds K-9 Search And Rescue Team, passed away peacefully at his home. Ed held several offices throughout his career with Hanover Hounds including Captain, Treasurer, Finance Director, and worked on several committees. Ed, a K-9 handler for Hanover Hounds, dedicated his time to many projects including the Proclamation that was passed in Hanover County and then in the Commonwealth of Virginia, for K-9 Veterans Day. Ed's commitment and many hours of hard work, lead to large events, education and more importantly, a tribute to our K-9 Heroes. Ed dedicated his entire life to serving the community whatever the cost. Ed always found the positive in everything and everybody he met. He never quit! He always carried a smile no matter what was going on.

Ed Martin will always be in our hearts and he will be deeply missed. Ed has been reunited with his K-9 Maggie-Mae, and we know they are trailing with " Intensities" in heaven. Farewell our brother, until we meet again. We Love You!

Your Hanover Hounds Team


---
HANOVER K-9 HERO'S DAY - APRIL 16, 2016
​LET'S CONGRATULATE AND THANK THE WORKING K-9
​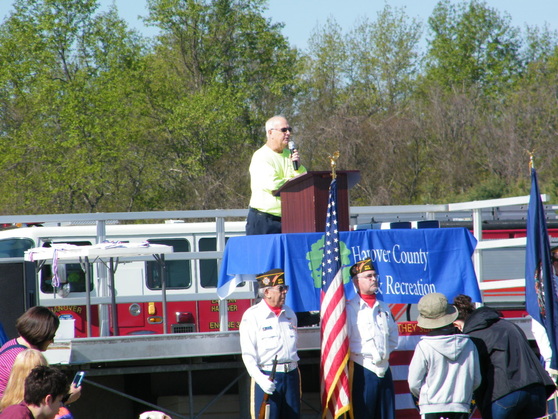 On Saturday morning at the Pole Green Park in Mechanicsville, VA. on April 16, 2016, friends of all canines gathered to hold the Annual Pooch Pursuit and celebrate the Working K-9 at the Annual Hanover Heroes Day event. Whether it be military service canines, security canines, Homeland Security animals, trailing and tracking k-9s or Human Remains Detection animals. they were thanked by a great crowd of well wishers. In the crowd was about every type and size of canine, who, along with their owners stood tall and proud to be at this event. The Hanover Hounds K-9 Search and Rescue Team who were the founders of the original Hanover Hound Days were all present and could not be missed in the Bright Neon Yellow uniforms. The Hounds thank those units participating in the event - The Capital Police, Richmond Police and Hanover County Sheriff's Office. The canine unit from Fort Lee was missed as all canines from that unit have been deployed overseas. We all wish them well.

Please enjoy the photos in the slide show below. Feel free to capture and save any for your memories. See ya next year!!
​
---
---
CANINE VETERANS DAY - MARCH 12, 2016
VIRGINIA WAR MEMORIAL

---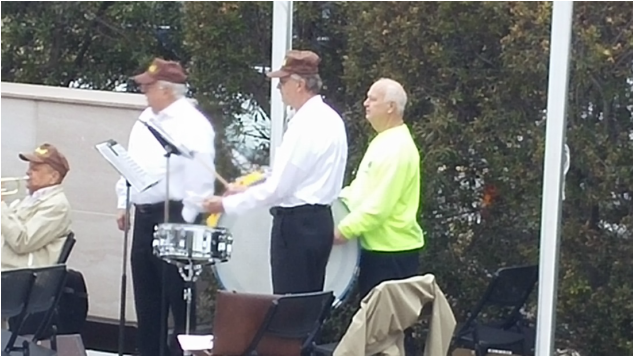 Yes, working dogs do indeed have their own VETERAN'S DAY Celebration. March 12, 2016 at the Virginia War Memorial, Working dogs of all varieties were honored for their work with our military, police, security, and search and rescue, as well as the now famous Therapy Canines. Your Hanover Hounds (all seen in their bright yellow shirts) were among the teams at the War Memorial.

We honor these members as everyday heroes, and wonder as to how these canines do what they do. Awesome displays and scenarios were run yesterday, all with positive results. Yes, we are proud of the working dogs now, and those who have sacrificed themselves in the defense of our country.

Enjoy the photos below and LIKE our Facebook page.
---
---
PRESIDENT ED MARTIN AND CAPTAIN BRIAN PARRISH
TEACH AT 2016 EMS EXPO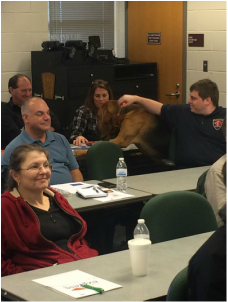 To our Hanover Hounds followers. On March 6, 2016 at the EMS Expo held at the Henrico County Training Center, President Ed Martin and Captain Brian Parrish, both members of
East Hanover Volunteer Rescue Squad
, taught a class about our four legged working friends. They explained the differences in trailing canines, tracking canines, how they follow "air scent", and also discussed our new division called HRD or Human Remains Detection.
WINN
, Captain Parrish's 11 month old "bloodhound-in-training", had a blast walking through the class and meeting all participants. Below are some photos. Please enjoy them, and LIKE our Facebook page. Tell your friends as well.
---
---
YOUR HANOVER HOUNDS ANNOUNCE.....
THEIR NEWEST DIVISION TO THEIR CANINE SEARCH AND RESCUE PORTFOLIO
HRD
OTHERWISE KNOWN AS "HUMAN REMAINS DETECTION"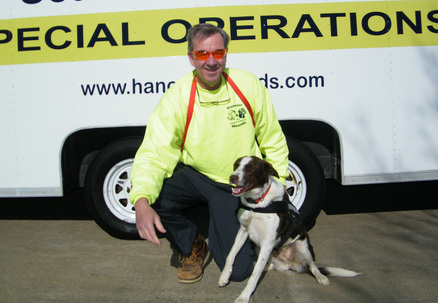 With the addition to its membership of Mr. William "Billy" Call and his canine GRACE, the Hanover Hounds K-9 Search and Rescue Team expands its searching capabilities to include those topics related to Human Remains. But there is more to the story.

Your Hanover Hounds Webmaster asked Billy to tell him about himself and Grace. What he sent back to me was so awesome, that I want to quote his exact words. If I thought that HRD was just to find human remains, then I was WRONG!!

FROM BILLY.......
"Human Remains Detection: Sure, lets go find a Dead Body.. What else?? How often do you find a Dead Body??

Grace is trained to find Dead Bodies; However, Grace is trained to find The Knife that was used in the commission of the crime. Grace is trained to find the blood smear on the carpet in the trunk of the car. She has been trained to find victims that have drowned and are still in 15 feet of water. Her skills will allow her to find body parts?

Last week at practice Ed Martian (President of Hanover Hounds) wore a pair of rubber gloves when he picked up four glass jars that had Human Remains in them. After hiding the jars he threw the gloves away in the Dumpster. Grace found the gloves from the very limited sent that were transferred to them. Grace is capable in letting me know that a body was at sometime in the back of a car Items that I use in practice are: Steak Knives that Human Blood has touched the blade. Hammers, Screw Drivers, Pipes that have come in contact with HR.

Grace has found unmarked burial sites over 100 years old. (This in impressive says the Hounds Webmaster)

In addition: Grace has been actively working towards getting F.E.M.A. Certified for Disaster Work. On command Grace will climb rock piles, extension ladders, under, over, and through pipes and structures. On command she will climb up or down through my instruction."

We have assembled several photos of Billy and Grace at work. There are shots from our training exercises, photos when Grace and Billy were on display at the Canine Heroes Day at the Virginia War Memorial, and action pictures of their performance at the Hanover Heroes Day at Pole Green Park on April 18, 2015 when the Hounds HRD division was announced. Please enjoy and send comments or compliments to Billy and Grace by using our CONTACT US page from this website. THANK YOU.


---
---
MEET YOUR HANOVER HOUNDS K-9 SEARCH AND RESCUE TEAM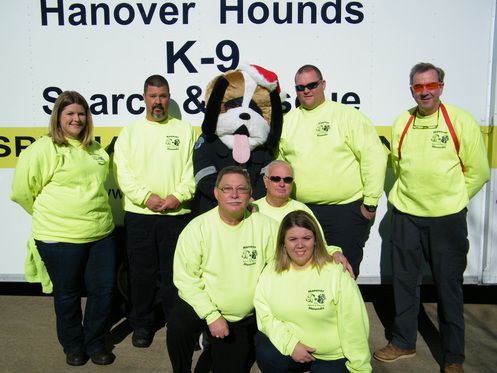 Left to right on top row, April Minter, Brian Parrish, Ven Barnes as Santa Paws, Chris Minter, and William Call. On the bottom row, John Von Hagel, Ed Martin, and Brandi Norton. Not shown are Teresa Parrish and Jim Bowen. PHOTO TAKEN 12.07.14.
---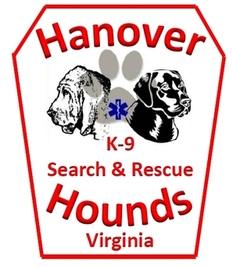 ---
THE MISSION OF YOUR HANOVER HOUNDS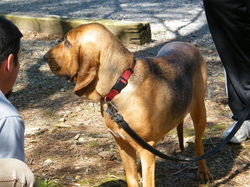 The Hanover Hounds K9 Search and Rescue was created to form teams that will provide the citizens of Hanover County and the Commonwealth of Virginia, WITHOUT COST, highly trained search and rescue personnel along with their K-9's, to help locate the lost and missing in our community. These services are available to law enforcement and Fire/EMS when needed.

If we are tracking a person with Alzheimer's that has wandered away from their home, or a child that has gotten lost in the woods while hiking, our goal is to be on scene and tracking as quickly as possible. If the missing person is one of your family members, we want to bring them back to you safe and sound.
---
---
SEARCH AND RESCUE DOG TRAINING
Our team will train all working breads of dogs from COLLIES, SHEPHERDS, and LABRADORS, to the well renowned BLOODHOUNDS.

Dogs locate people that are lost or missing by tracking their human scent left behind by over 40,000 skin cells dropped every minute. The SAR dog training is gradual and each dog responds at its own pace. When we train, we use a variety of subjects for mock search and rescue exercises to keep our skills and knowledge at the highest level possible.

We train to the standards of the International Bloodhound Training Institute, and we also attend other training sessions held by other Search and Rescue groups across Virginia.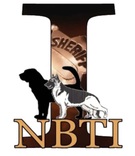 ---
HOW SEARCH AND RESCUE DOGS WORK
The tracking dog works on a lead 20 to 30 feet in length. After arriving at a search site we will collect a scent article of the missing person. We will than put a harness on the dog, attach lead, and present the scent article to the SAR dog. Once the dog picks up the scent the SEARCH IS ON! Hopefully after a short period of time, the team will locate the missing person and bring them back safe and sound to their loved ones.

QUICK ACTIVATION
Activation of a SAR K-9 Team is vital to locating a lost or missing person. History has shown that in most cases, more than 3 to 4 hours pass before the K-9 team is activated. This allows the track to age and make it harder to pick up the scent. The first thing that happens when a person goes missing, is the family will notice they are missing and search for a period of time before calling for help. The average time is about 1 hour. Most of the time, law enforcement is the first to arrive. It will take them anywhere from 30 minutes to 1 hour to collect information about the missing person. They may search for a while before calling for Fire or EMS for assistance. Usually when Fire or EMS agencies arrive, they will search for a while before calling for SAR K-9 Teams. This may not be true in all areas, but it is usually true in most cases. Our goal is to have the SAR K-9 Team activated as soon as the missing person is reported. We would rather be cancelled in route then to arrive after the trail has aged.
---
Please help us, so that others can be found!
By clicking on the
DONATE
icon below, you will be connected with
PayPal
. Whether you have any account with PayPal or not, we will gladly accept your donation to our cause.
We thank you for your help.
Hanover Hounds K-9 Search and Rescue is a non-profit 501(c)(3) corporation
, and is dedicated to assisting the citizens of Hanover County and the Commonwealth of Virginia. If you seek verification of our tax structure, please contact our Treasurer at
treasurer@hanoverhounds.com
.
---
TO SCHEDULE THE HANOVER HOUNDS K-9 SEARCH AND RESCUE TEAM
FOR A COMMERCIAL, ASSOCIATION, OR SCHOOL EVENT, PLEASE E-MAIL
EVENTS@HANOVERHOUNDS.COM