K-9 VETERANS DAY CELEBRATED -
FIRST ANNUAL HANOVER K-9 HEROES DAY - MARCH 23, 2013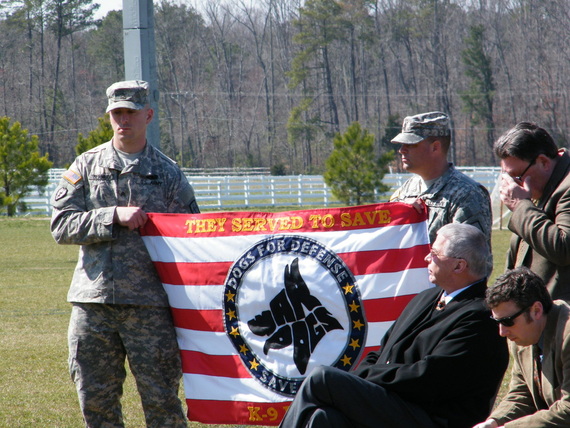 Members from Fort Lee, VA display new WAR DOGS Flag during Opening Ceremonies on March 23, 2013. Delegate John Cox looks on.
Hanover K-9 Hero's Day, the first commemoration of Virginia K-9 Veterans Day, was held on Saturday, March 23rd at Hanover Court House Park, Hanover, VA. Presented jointly by the Hanover Hounds K-9 Search and Rescue Team and the Hanover County Parks and Recreation Department, this event celebrated the Commonwealth's FIRST ANNUAL official recognition of March 13 at K-9 Veterans Day in Virginia.

The Canine Celebration included demonstrations by Search and Rescue, Therapy, Agility, and Police and Military Working Dogs. In addition, their were many vendors of pet-related products and veterinarian service providers that were on hand to celebrate the event. The audience was thrilled at the demonstrations, and were quite tearful during the opening ceremonies. Discussions and explanations of the history of the MILITARY WORKING DOG were detailed by the speakers, which included the transfer of the new Military Working Dog flag from the Hanover Hounds K-9 Search and Rescue Team to the Virginia War Memorial. The actual Commonwealth of Virginia Proclamation making March 13th of this and every year K-9 Veteran's Day, was given to Captain and President Ed Martin for the Hanover Hounds.
---

K-9 HEROES GET THEIR DAY TO BE CELEBRATED AND REMEMBERED!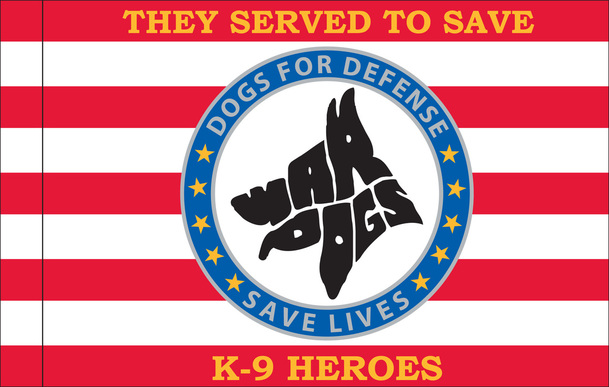 March 13, 2013 was a bright and sunny day. It was perhaps the best day to celebrate and honor all of those many canines who served this great land of ours. They now have their day! The Commonwealth of Virginia, under the passionate direction of Hanover Hounds K-9 SAR President and Captain Ed Martin and Delegate John Cox, passed a Proclamation making March 13th of this and EVERY year, K-9 Veteran's Day. Present were canine teams from Fort Lee, as well as the Hanover Hounds bloodhounds. Please enjoy the following Slide Show, and remember that these honored canine serve this country, and ask nothing in return except a kind voice, and a pat on the head.


---
NEWS FLASH
COMMONWEALTH OF VIRGINIA BECOMES 13TH STATE TO DECLARE
MARCH 13TH AS K9 VETERANS DAY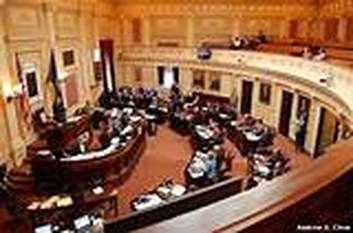 In the afternoon of February 19, 2013, the Virginia State Senate put the final vote on the floor that makes March 13th of 2013, and each succeeding year, K-9 Veterans Day.

It has been an amazing journey, and humbling to see how much support has been shown towards the recognition of these awesome Heroes. A huge THANKS goes out to Delegate John Cox for sponsoring the resolution, and doing all of the leg work in the Virginia House and Senate to make this proclamation a reality! Hanover Hounds K-9 Search and Rescue Team is honored to have played our part in making this dream come true for our K-9 partners, as they serve and protect only because they want to please their Handler.

The journey is not over! It has just started! If you or your friends DO NOT live in a state listed below, please get involved by contacting your State Legislature and see what is needed to get this proclamation presented.

California - Delaware - Florida - Georgia - Illinois - Michigan - New Jersey - Ohio - Pennsylvania - South Carolina - Tennessee - VIRGINIA - West Virginia


Ed Martin, President and Captain, Hanover Hounds K-9 Search and Rescue


---
---
A MESSAGE FROM OUR PRESIDENT AND CAPTAIN, ED MARTIN
JANUARY 28, 2013 - AN UPDATE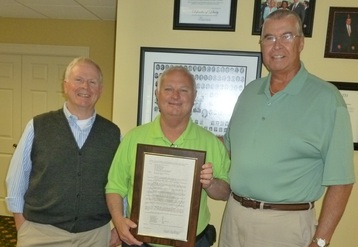 L to R, James Bowen, Capt. Martin, Del. John Cox.
After the Hanover Board of Supervisors passed its historic proclamation declaring March 13 as K-9 Veterans Day, your Hanover Hounds embarked on the next leg of their mission. Shortly after the passing of the proclamation in Hanover, Captain Ed Martin and Hanover Hounds member Jim Bowen approached our House Delegate, John Cox, to see if he would be interested in sponsoring a resolution for the Commonwealth of Virginia, to be the next state joining the movement to have a nationally celebrated K-9 Veterans Day. Delegate Cox was honored to have been asked by the Hanover Hounds, and after a meeting, a resolution was written and HJR552 was on its way! House Representatives John Cox and Delegate Richard Anderson signed on as chief patron and chief co-patron respectfully. In the Senate, Senator William Stanley is the chief co-patron. On January 18, 2013 the resolution was engrossed by the House and passed with a 96-Y 0-N vote. The proclamation is now in the Senate. With it being a joint resolution it has now moved over to the Senate where we hope it will pass with flying colors.

Hanover Hounds feels proud that we are helping with this movement and hope this will help bring praise and honor to these amazing animals that serve and protect.

I will update this message as more develops.

Ed Martin, Hanover Hounds

---
---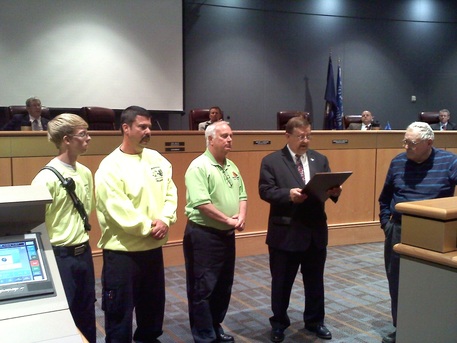 Supervisor Chairman, Mr. G. Ed Via III, reads aloud the Proclamation. From Left to right, Hanover Hounds members Nathan Elswick, Brian Parrish, President Ed Martin, Mr. Via, and Training Director Emeritus Garland Gilman.
HANOVER COUNTY K9 VETERANS DAY PROCLAMATION

---