DINWIDDIE COUNTY SHERIFF'S OFFICE
MOURNS LOSS OF K-9 OFFICER MACO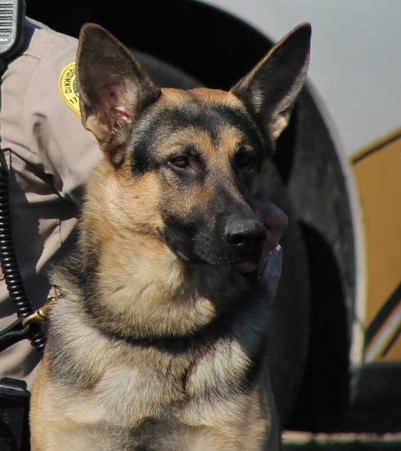 MACO
The Dinwiddie County Sheriff's Office lost one of its K-9 officers today. K-9 Deputy "Maco" was tragically hit by a vehicle and killed today during early morning training exercises with his handler, Deputy Brock Tomlin. Deputy Maco, a German Shepherd – Belgium Malinois mix was born in in the Czech Republic in July 2011. He received formal K-9 Officer training through Bullock's K-9 Kennels in Greenville, North Carolina. Maco was trained as a "Patrol Dog" specializing in three areas: drug and narcotics detection, tracking and article location. Maco was hired by the Dinwiddie Sheriff's Office directly from Bullock's, in July 2012. Once assigned to his initial partner, Deputy Jasen McClellan, the two returned to Bullock's for continued training as a team. In March 2013, Maco was reassigned to Deputy Brock Tomlin, and once again, K-9 Officer and handler traveled to Greenville, NC for additional training through Bullock's K-9 Kennels. Sheriff D.T. "Duck" Adams stated that Maco was an exemplary K-9 Officer and the department is deeply saddened that their comrade is no longer with them. Maco was accomplished at drug and narcotic detection. Major William Knott proudly shared the "Hardly a day went by that Maco didn't find drugs". The Dinwiddie County Sheriff's Office would like to extend sincere and heartfelt thanks to J.T. Morriss & Son for providing cremation services for Maco free of charge. Planning is underway for a permanent memorial for Maco. Rest in peace Maco. You've served the citizens of Dinwiddie County well and will be missed.

The above article was taken from the Facebook page of the Dinwiddie County Sheriff's Office verbatim on November 6, 2013.

Your Hanover Hounds extends its sincere and heartfelt regrets, prayers, and thoughts to the Sheriff's Office, Maco's handler, Deputy Brock Tomlin, and all of the personnel connected to their K-9 program.

---
---
HANOVER COUNTY LOSES FIRST K-9 HERO - HUNTER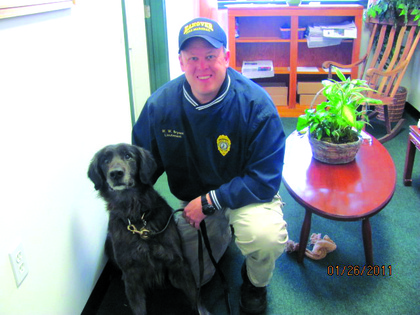 Hunter, along with Lt. William Bryant of Hanover County.
Hunter was known to be a friendly and loving dog. He had a great personality, and he loved for anyone to pet him and show him attention. Hunter recently passed away, leaving a loving family and a grateful county and state.

Hunter, as shown in the photo to the left, along with his handler, William Bryant, started his K-9 adventure in 2003, when he completed his 13 week basic K-9 school through the Virginia State Police. Prior to that, Hunter was discovered at an animal control center in Milwaukee, Wisconsin. Soon, he was transferred to the US Customs K-9 Program in Front Royal, Virginia. He held certifications through the Virginia Police Work Association, and was utilized over 500 times throughout his career. Just a few of his note-worthy assignments included conducting protective sweeps for the First Lady, Michelle Obama, and former First Lady, Laura Bush, and assisting the Virginia Capitol Police during the inauguration of Governor McDonnell. Hunter and William assisted when there were bomb threats in New Kent and Spotsylvania, and searched in Goochland for a weapon used in a homicide. He even assisted the City of Richmond with bomb threats, evidence recovery, and preventive sweeps at many large venues.

Hunter retired in 2010, and throughout the years, he helped provide peace of mind to thousands of people by insuring them that the places and events they were attending were as safe as possible. Hunter was used as an educational tool as well. William and Hunter performed demonstrations for many civic groups, preschools, and daycare facilities throughout the county, and assisted with career days at several of our local schools.

Hunter will be missed by his family and county, and remembered for his bravery as well as the passion for civic duty to all of us. Thank you, Hunter! Rest in Peace!


---