---
IN MEMORY
OUR BELOVED RUFUS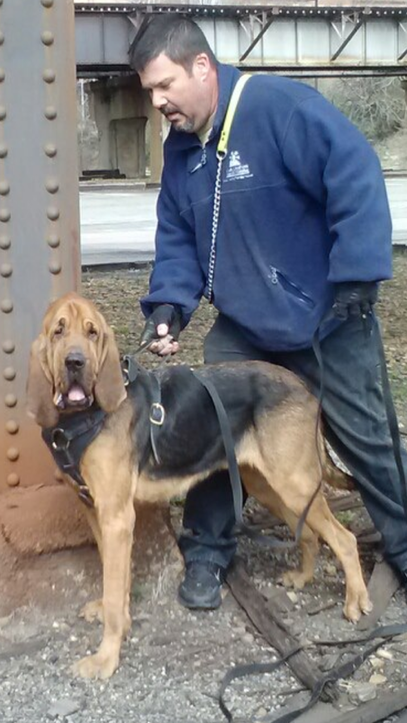 He was ready for service. He was ready to Search and Rescue the lost and missing people of our great community. He trained at every session, worked extremely well on searches with his handler, and was one of our dedicated group of canines held in high esteem by your Hanover Hounds K-9 SAR Team.
Rufus fought a great battle, but lost his life on June 6, 2017. He is at rest now, running SAR calls along with the late Maggie Mae and former President, Mr. Ed Martin who lost his battle with cancer last year on July 13, 2016. To all, please read both
IN MEMORY DEDICATIONS
on our
IN REMEMBRANCE tab on this website
.
Rufus was kind and gentle and liked to play around. His dedication to the cause and his trust he held in his handler, Mr. Brian Parrish (seen left), our current HHSAR President, was contagious to all of our members. We pray for Brian, his wonderful wife, Teresa, and their family, but we need to remember Rufus, and what he represented to the community. He did it all for a pat on the head, and a treat when he found a missing subject.
Rufus, we will miss you immensely
.
To send condolences to Brian and the Hanover Hounds, please e-mail
president@hanoverhounds.com
.
---
---