HANOVER HOUNDS CANINES TRAIN WHILE PARTICIPATING IN
DOMINION'S CHEVROLET "KIDS SAFETY DAY"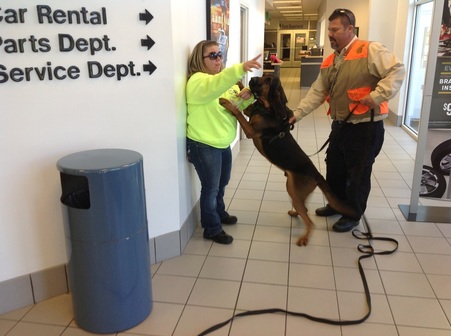 On Saturday, October 26, 2013, your Hanover Hound K-9 Search and Rescue Team attended Kids Safety Day at Dominion Chevrolet. During the event, we did several demonstrations which provided great scenarios for training. The first couple of exercises were delayed start intensities combined with a seat start for the scent article. The exercises were done in the parking lot of the dealership, and next to their buildings which were full of people and cars. This situation, combined with the strong wind, created a perfect scenario with lots of distractions and contamination.

The other exercise that Director of Training, Brian Parrish created, involved entering a building with people inside, and then exiting a building into a parking lot with light traffic. This particular delayed start exercise, began outside, using a chair as the scent article. This exercise included 2 door ID'S, trail down a tile floor hallway, eliminate several people as we passed in the hallway.

We had a great time showing the public what these canines are capable of, when trained using intensity. It was during the best event as well - a Safety Day for Kids! Thanks to all who participated!

Please enjoy the slide show below, and compare the photos to the description above.



---