SPECIAL TRAINING WITH SPECIAL PEOPLE
NOVEMBER 18, 2012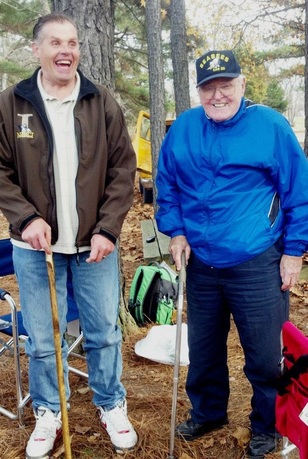 From left to right, Kevin Kocher and Garland Gilman.
On Sunday, November 18, 2012, your Hanover Hounds K-9 Search and Rescue Team, invited a few guests to their training day at Poor Farm Park, Ashland, VA. The Hounds held several training exercises, and then had a great cookout. The guests who attended were Rebecca Mizzer along with her canine, Spice, Kevin Kocher, and Garland, Mickey and Doug Gilman. Rebecca, who has experience in the training of bloodhounds, is interested in joining the Hanover Hounds K-9 SAR Team. Kevin is the President of the International Bloodhound Training Institute, and has handled canines for years in the law enforcement field! He has taken the culmination of his many years of his work experience, and created a training method that has been adopted all over the world. Kevin's training method was developed keeping everything simple and basic, while building a solid foundation, thus creating a highly driven canine that will be successful in all areas of scent discriminating trailing. As a matter of fact, Kevin Kocher has written a book called "How to Train a Police Bloodhound and Scent Discriminating Patrol Dog" that explains, step-by-step, how to build that solid foundation, important to the success of canines and their handlers.

Garland Gilman is a retired K-9 handler, and was the first volunteer K-9 handler for Hanover County, VA. He has worked with law enforcement and search calls for many years in the Hanover County and surrounding areas as called upon. Mickey, Garland's wife, and Doug, his son, have supported Garland during his years of service to the community, helping with training, canine care, and assisting on deployments.

Your Hanover Hounds wish to thank Kevin and Garland for all of their many years of service, and for sharing their knowledge to all of the Team. In addition, your Hounds thank all of our special guests for attending the cookout, and for making the day a most enjoyable one to remember for many years to come!

Sunday's exercises included intensity exercises used as the foundation builder, getting the K-9s excited, bringing out their high drive. The exercises also included delayed intensity exercises, transferring the intensity of fun and excitement to the scent article, which used to pull scents from a lost person. In addition, the Hounds performed car seat start exercises, allowing the K-9 to pull the scent of a missing person from a car seat. Finally, the training included straight line cast exercises, where a K-9 is presented with a scent article. Both K-9 and handler then run in a straight line across the area to determine if a missing person has crossed the area.

Below are some of the photos taken during this special day of training. Enjoy!


---
---