HANOVER HOUNDS CANINES HANDLE
FENCE CROSSING TRAINING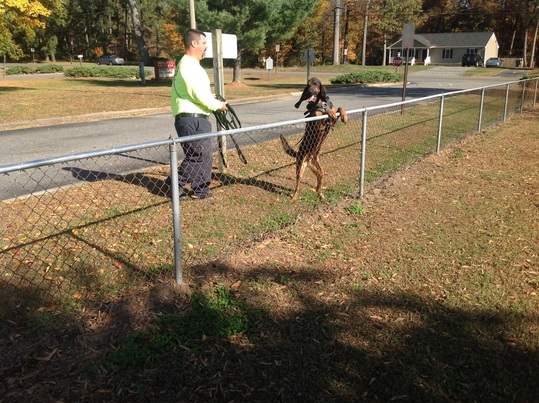 During training on Sunday, November 3, 2013, the team started with intensity exercises that also had same scent contamination problems, that both the K-9 and handler had to work through. This component of our training, is set up by having a fresher trail cross over a older trail, laid by the same person. The K-9 is trained to follow the freshest or the "hottest" scent. This is important because in many cases when a person walks away from their home, their scent is everywhere. We want the K-9 to follow the hottest scent, this is key to establishing the subject.s or the lost person's direction of travel.

The team also did a fence crossing component, where the subject crosses a fence, and the K-9 has to indicate on the fence, where the subject crossed. Once the K-9 indicates the location on the fence typically by jumping up, the K-9 is then taken to the other side of the fence, and is casted, meaning walked in a straight line which is parallel to the fence. The handler then looks for a head drop indication from the K-9, showing that they have found the subjects scent. The K-9 will continue on the trail until they find the subject. This fence crossing component was run using the intensity exercise, continuing to strengthen the foundation of the K-9 and each component.

Pictures are worth a thousand words, and the sequence of the slide presentation below, will illustrate the fence crossing training from the subject walking, then crossing the fence, to the victim being found by the K-9. Watch closely as the scenes progress.

Congratulations to the Hanover Hounds for a job well performed!


---
---