HANOVER HOUNDS HOLD SPECIAL TRAINING SESSION
SUNDAY, APRIL 21, 2013 AT POOR FARM PARK, ASHLAND, VA.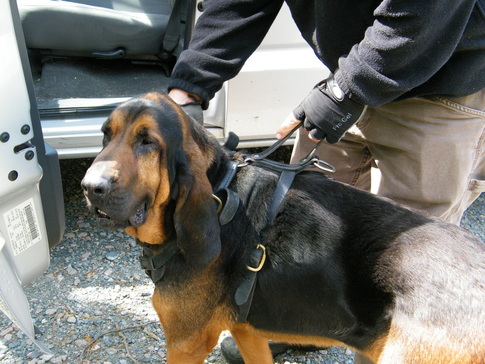 On Sunday, April 21, 2013, your Hanover Hounds had a great team training session, complete with a fantastic cookout. We were in Ashland, VA at Poor Farm Park. Hanover Hounds would like to thank our guests, the Gilman family, for providing lunch for everyone.

The Team concentrated on several components (training exercises) that are crucial during an actual incident. The day started with a car seat start, obtaining a scent article that lead the canines into the woods. These woods were full of various distractions such as people riding bikes, joggers in the park, and visitors just walking about, while the K-9s were on the trail of the subject who had left their car.

The next component was a high find, where the subject ran down a paved road, crossed a gravel parking lot full of people, their cars, and their dogs, then climbed on top of a dumpster , hidden from the K-9s.The K-9s had to indicate where on the dumpster, the subject had used to get to the top. This was accomplished by the K-9 jumping up the correct side of the dumpster.

The next component was a door ID, where the subject started at their truck, then crossed a gravel lot and ended up in a Port-o-Potty. The K-9 had to pick up the scent from the truck's seat, and work the trail to the Port-o-Potty, and jump up on the correct door to indicate that the subject was inside.

The last component was a trail that ended up next to a playground full of kids and birthday parties. There were lots of distractions for the K-9s, especially since the K-9s love to play with children. All components where followed up with an intensity trail to tie the fun and excitement to that particular component. What a great day of training, and thank you to everyone who showed up to help.

Please enjoy the following slide show showing some of the various components as explained above, along with the guests who helped.



---