HANOVER HOUNDS TRAIN 5/5/13 AT POLE GREEN PARK
VARIOUS EXERCISES COMPLETED BY CANINES MOST SUCCESSFULLY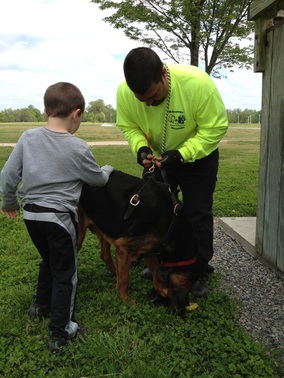 Our training on May 5, 2013 started off with a HIGH FIND exercise. The subject left her sweat shirt as a scent article and traveled across a grassy area to a piece of equipment off the ground. The K-9s and handlers had to deal with windy conditions and several other distractions.

The next exercise was a SCENT ARTICLE START which included two (2) subjects. Both subjects had handled the scent article (adult and child), then left the area to simulate a person kidnapping a child. The K-9s found the adult, then was commanded to find the other missing person (the child) without re-introducing the scent article. The K-9 had to remember the other scent that was on the scent article left at the starting place. T

The third exercise was a FENCE CROSSING exercise, where the subject left a trail to a fence, and then jumped the fence. Once over the fence, the subject went another 100 yards and hid. The K-9 had to show the handler where the subject had climbed the fence then show where the trail went on the other side.

It was a very successful training day! Enjoy the slide show below, and compare the exercises with the appropriate pictures.


---