THANK YOU FOR YOUR CONTRIBUTIONS AND CONDOLENCES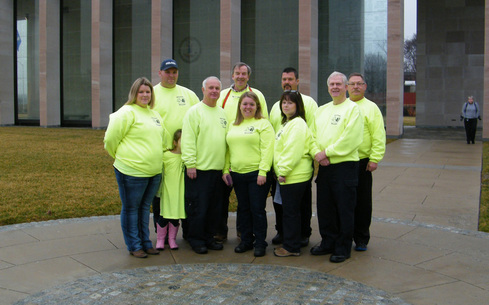 The family of the Hanover Hounds K-9 Search and Rescue Team, wish to thank all of you for your fine donations in memory of our beloved founder and President, Mr. Ed Martin. Your donations will help us move the team forward getting the important equipment and supplies, a request that Ed wanted us to do. Ed was all about the primary directive of our SAR Team, to track until found, and to save a life in the process. In addition, we want to thank you for all of your kind words and thoughts about our founder, and rest assured, Ed's memory will be carried on in all that we do.
CLICK HERE to see Ed Martin and Maggie Mae as they are now resting in peace.
---
IN MEMORY OF OUR PRESIDENT AND FOUNDER
EDWARD M. MARTIN III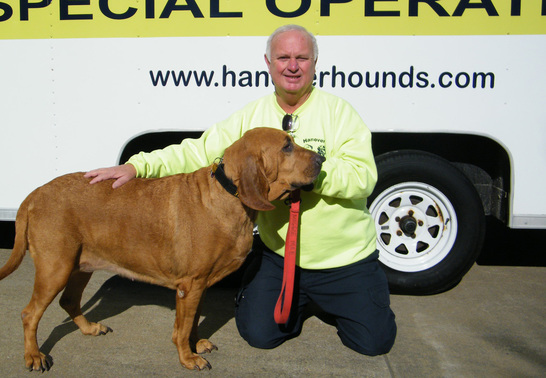 On July 13, 2016, Ed Martin, President and Founder of Hanover Hounds K-9 Search And Rescue Team, passed away peacefully at his home. Ed held several offices throughout his career with Hanover Hounds including Captain,Treasurer, Finance Director, and worked on several committees. Ed, a K-9 handler for Hanover Hounds, dedicated his time to many projects including the Proclamation that was passed in Hanover County and then in the Commonwealth of Virginia, for K-9 Veterans Day. Ed's commitment and many hours of hard work, lead to large events, education and more importantly, a tribute to our K-9 Heroes. Ed dedicated his entire life to serving the community whatever the cost. Ed always found the positive in everything and everybody he met. He never quit! He always carried a smile no matter what was going on.

Ed Martin will always be in our hearts and he will be deeply missed. Ed has been reunited with his K-9 Maggie-Mae, and we know they are trailing with " Intensities" in heaven. Farewell our brother, until we meet again. We Love You!

Your Hanover Hounds Team


---
A MESSAGE FROM OUR PRESIDENT, ED MARTIN
TEAM MAGGIE MAE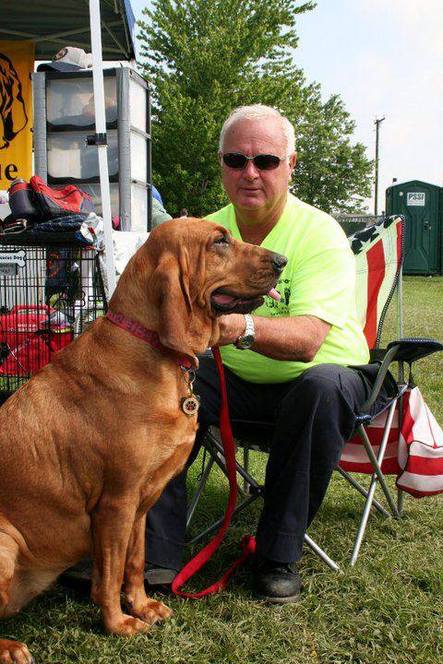 On behalf of Team Maggie Mae, the Martin family, and all the members of the Hanover Hounds K9 Search and Rescue Team, we want to thank everyone for their kind words and prayers during this trying time in the life of our team families with the passing of our founding K9 Maggie Mae. I don't know how we would have made it with out all the love and support we have received. Maggie Mae was an amazing partner to the entire team and served her community well.
With knowing Maggie only had 1 to 3 months to live from her diagnosis of cancer, I started making her arrangements. I contacted Agape Cremation Services (
agapepetservices.com
) in Sandston, Virginia to make arrangements and asked their price for taking care of her. I was told that because she was a working K9, there was no charge, as they provide this service to honor all working dogs, civilian, and military.
I told them that I wanted to make a donation to a charity of their choice in Maggie's memory and they said they wanted people to donate to Hanover Hounds K9 Search and Rescue Team in the area where she served
. From my first phone call to them to responding to my home to pick her up to bringing her back home to us, they treated her like the true K9 Hero she was.
Maggie Mae will live on in the many memories and stories that Team Maggie Mae has made over the years. She has touched many lives and hearts with he sweet spirit and loving heart.
I
f you would like to make a donation to our team in her Memory please send it to Hanover Hounds K9 Search and Rescue, PO Box 925, Mechanicsville, Virginia 23111.
This will help us continue the hard work and dedication she made in her short 7 years on earth to serving our communities and educating children.
I was truly blessed to have had our paths cross in life and for the bond we had as a working team. She taught me and showed me things about life I never knew but most of all she gave unconditional love and dedication to her service to others.
Rest well my sweet Maggie Mae, you deserve everything you receive now that you have crossed over that wonderful "Rainbow Bridge." When my day comes and it is time for me return home, I will being your gear and we will play every day in heaven running trails!
Ed Martin

Handler/Team Maggie Mae

---
HANOVER HOUNDS K-9 TEAM MEMBER. MAGGIE MAE, LAID TO REST
JULY 3, 2015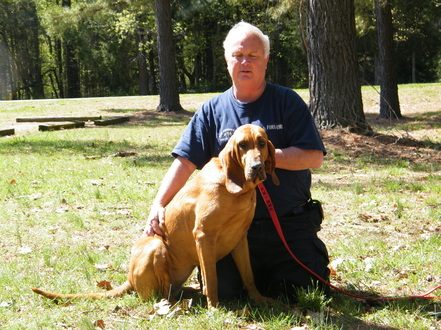 One of our team members was laid to rest this morning after a battle with cancer – Maggie - one of Hanover Hounds founding members.

Maggie, a man trailing bloodhound that not only dedicated herself to help find missing persons, also helped educate thousands of children and adults on safety and survival when lost, and the overall understanding of what a bloodhound's role is during a search. Maggie was a great working K-9, companion and friend to the entire Hanover Hounds Search and Rescue Team, and she will be deeply missed. The dedication she presented, no matter the weather conditions, the time of day, or how she felt, cannot be measured!

Until someone works and trains with a team member like Maggie, it is hard to grasp what she has accomplished. Maggie has set the foundation for future K-9s. Maggie's handler and a Life Member of East Hanover Volunteer Rescue Squad, Mr. Ed Martin, is equally dedicated and committed to K-9 handling as well as providing education to the public. Ed and Maggie make a great team, and the bond they have formed over these years, cannot be measured.

Hanover Hounds K-9 Search and Rescue Team salutes and thanks Maggie for the dedication and commitment she provided all of us, for a simple pat on the head or hand (paw) shake. Maggie, we love and will always miss you, Your Hanover Hounds team members give our word that we will continue to strengthen the foundation that you help built, and provide long lasting service to our community.

Our Prayers are with you and your family. R.I.P. Maggie.

---