THE POWER OF INTENSITY TRAINING IS AMAZING!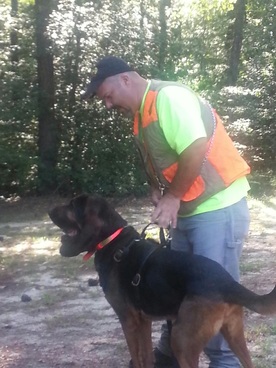 Training in Saturday, September 7, 2013 was held at Pole Green Park, Mechanicsville, VA, with a turn out of team members,visitors and K-9s. The day started with intensity exercises to get the K-9s into a training mode. The intensity exercise strengthens the foundation and is the back bone to all of our training. The K-9s really love the quick trail and reward at the end of the intensity exercise.

The next exercise the team did was a car seat start and a high find. The K-9 had to pick up the scent (on command) off a truck seat, then trail the subject which was hiding high out of sight of the K-9. The K-9 had to indicate on the object (tree,dumpster) the subject used to hide. The K-9 indicates by jumping on the object.

The next exercise the seasoned K-9s did was a cold trail that was 17 hours old. The subjects laid a trail the night before over a variety of terrain. Following the cold trail all of the K-9s did a intensity through very tall grass to get them use to different terrain and distractions.

The team ended up with a door ID exercise where the K-9 had to indicate which door the subject went in. This is done just like the high find, the K-9 jumps on the door, the K-9 is rewarded and then the K-9 IDs the subject. The K-9 is rewarded for the ID of the subject. All of the exercises were followed up by a short intensity exercise. This extends the game and strengthens each exercise.

"All K-9s did very well and the team had a great time. The power of intensity training is amazing," states Director of Training, Brian Parrish.

Thanks to all who attended.


---